3C All-in-One Toolbox - Getting started
Submitted by

3c

on Sat, 03/16/2013 - 03:04
After installing 3C All-in-One Toolbox for the first time, opening the app will display a tabbed main screen containing 4 tabs. The Manage tab being the default gives access to all app's managers, including device, task, file, app, network, battery, cpu, system, etc.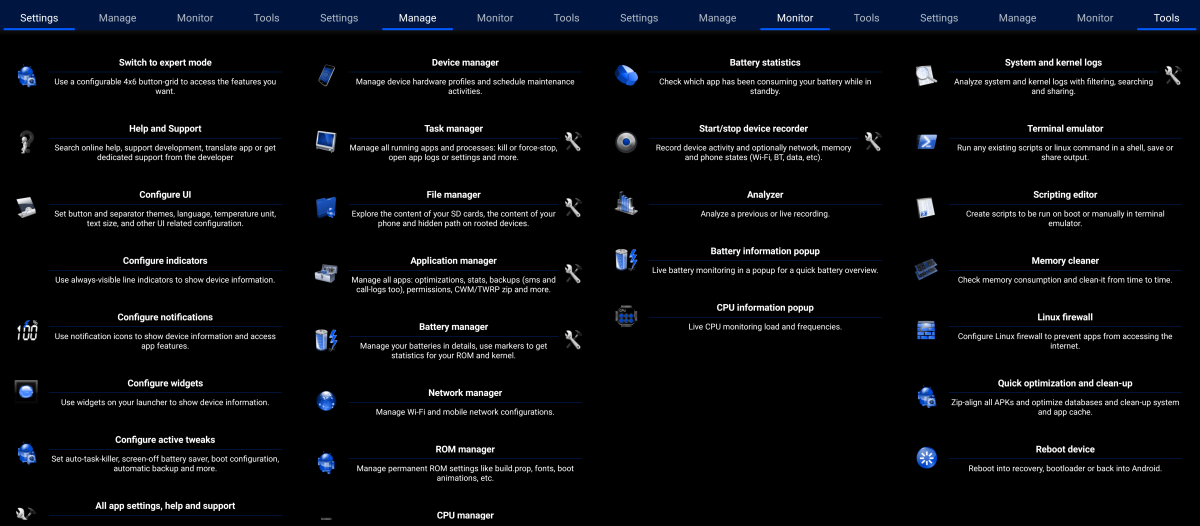 The first tab on the left allows you to request assistance, update translation, search online help (Help and Support) as well as configure the UI and many features that do not have dedicated screens: notifications, widgets, active tweaks, etc.
Right of the Manage tab, the Monitor tab allows you to look at app statistics since unplugged or charged, access analyzer to study a previous or live recording of CPU or network consumptions and component states (wifi, bt, gps, calls, etc). 2 information pop-ups gives you a quick access to battery or CPU information.
Last tab on the right gives access to various tools (explorer, terminal, memory cleaner, system logs, firewall and reboot for rooted devices) that can be used on a daily basis to explore your SD card or Linux file system.